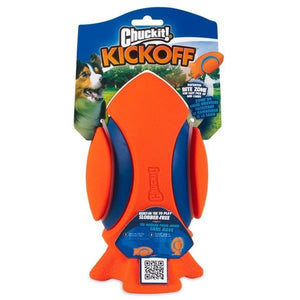 Chuckit! Kickoff
 FUN FOR PETS AND PET PARENTS: These interactive dog toys are fun for pets and pet parents, allowing pets to chase the Chuckit! kick ball as pet parents kick, making them great dog toys to combat boredom
The Chuck It fetch ball has an iconic rugby ball shape for the ultimate game of fetch. The bright colours make it easy to spot from long distances. The patented bite zones make it easy for dogs to pick up and bring back to you.
FLOATS IN WATER: Rubber and foam construction of allows engaging playtime on land or water

EASY PICK-UP: Featuring a deep, grooved design, dogs can easily grab the Kick Fetch for quick retrieval
BUILT IN TEE to play slobber-free!
HIGH-VISIBILITY COLORS: Pets and pet parents can easily spot the bright orange and blue dog ball in tall grass during outdoor play or in the dog toy basket
DURABLE DESIGN: To hold up to rough, outdoor dog games, the Chuckit! Kick Fetch features a durable construction that combines canvas, rubber and foam
EXCITING, RANDOM BOUNCE: The rubber and foam construction with a unique, grooved design creates a random bouncing pattern that pets will love to chase