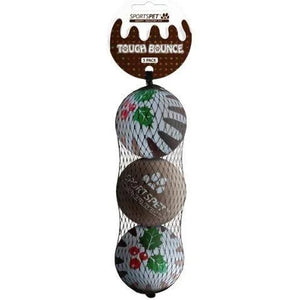 Xmas Pudding Tough Bounce ballees - WOWZA what a brilliant Christmas!

These balls are super bouncy and lots of fun.  They are Bob's ultimate best toy ever - he absolutely loves them.  Easy to throw really far, super bouncey and tough enough to last a long time (or until you throw it over a hedge).
4.5 x 4.5 x 4.5 cm
With a genuine focus on quality, Sportspet products aren't just fun, but they are also extremely safe and durable meaning that particular attention is paid to the materials used.
Before becoming part of the range Sportspet products are rigorously tested by a reliable pet testing team, they love the products and hope you and your pets love them too.
Playtime should always be supervised.