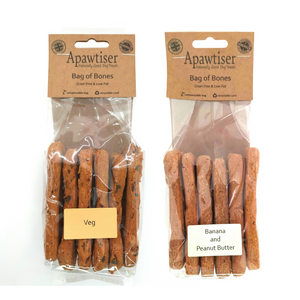 Delicious, crunchy bones baked with natural, human grade ingredients.
Containing natural ingredients, these large bones are great for all dogs, including those with sensitive stomachs.
Grain free and low fat.
Two varieties - Banana & Peanut Butter or Vege Bones.
Size approximately 11cm x 4cm x 1cm. 1 bag contains 6 biscuits.
Banana & Peanut Butter Bone – Composition: gram flour, banana (12%) peanut butter (10%) (peanuts)  Analytical Constituents (g/100g): Ash 2.6, Fat 8.2, Protein 23.9, Crude Fibre 2.8, Moisture 7.8
Veg Bone – Composition: gram flour, carrot, kale, hemp  Analytical Constituents (g/100g): Ash 2.8, Fat 1.1, Protein 22.4, Crude Fibre 3.5, Moisture 9.7