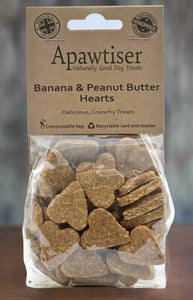 Pals, these are almost a pudding in biscuit form- a great way to treat your dog when they deserve a reward.
A scrumptious mix of potassium-rich banana and xylitol free, protein-rich peanut butter cooked with rolled oat flour which is full of fibre and great for dogs with wheat intolerances.
Ground ginger had also been added.
Free from common allergens such as dairy (including eggs), wheat, pork and beef.
Composition: oat flour, banana (27%), peanut butter (23%) (peanuts), rapeseed oil, ground ginger
Analytical constituents: Ash 1.9%, Crude fibre 2.0%, Crude Protein 17.8%, Moisture 3.0%, Total Oil 21.9%
This is a complimentary dog food and should be served as part of a balanced diet.
About Apawtiser:
Mac the cocker spaniel has complicated dietary needs, so his parents decided to start their own treat company, to make sure Mac gets treats that don't upset his tum.  Here is their story...
Unfortunately, when he was a pup, we noticed that he would get a lot of stomach upsets – we won't go into too much detail! After a trip to the vet to be allergy tested, we found out that he has intolerances to most food you would expect a dog to be able to eat.
This severely limited what he could eat without any unpleasant side effects. We struggled to find any treats which he could have. This led us to develop our own range of dog treats which were more suited to sensitive tummies.
Apawtiser offers a range of treats which can be adapted to suit individual doggie dietary requirements using ingredients known to be tolerated by most dogs. All recipes have been rigorously taste-tested by our 'in house' expert - Mac!  They have to pass the drool test!