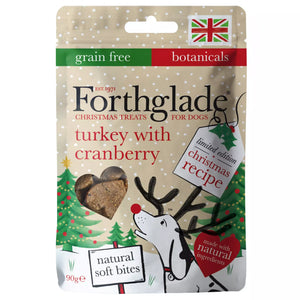 Forthglade Christmas natural soft bite treats are designed to help nourish the relationship between you and your four-legged friend. Made using natural ingredients, bursting with goodness and packed full of flavour. Lovingly hand-baked in wood-fired ovens by our team of expert bakers in the UK.
Complementary pet food for dogs. Suitable for dogs aged 2 months +. Treats are for special occasions, and should only play a small part in your dog's balanced diet. Each heart shaped treat can be easily broken in two for smaller dogs, or just to make them last longer. Make sure fresh drinking water is always available.
Storage: a cool, dry place is best. This pack is resealable to maintain freshness.
Our treats pouches are recyclable at larger stores
Grain-free, making them the perfect treat for even the most sensitive of tummies
Soft-bite texture, which is more palatable. Free from junk and fillers.
Yucca extract - a natural plant extract that may help improve digestion, reducing the chance of any unwanted smells!
Botanicals - natural herbs to help aid the body's natural defences.
Composition
Turkey Meal (30%), Dried Sweet Potato (24%), Pea Flour (20%), Vegetable Glycerine (15%), Cold Pressed Rapeseed Oil (7.5%), Dried Cranberry (1%), Dried Parsley (0.5%), Dried Sage (0.5%), Yucca Extract (0.1%)
Crude Protein 22.5%, Crude Fibre 2.2%, Crude Fat 11.2%, Crude Ash 6.1%, Moisture 20%.