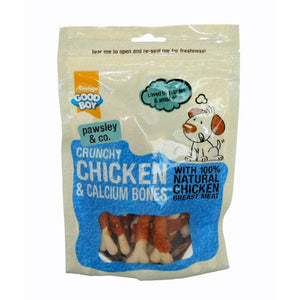 I'm made with delicious 100% natural chicken breast meat and am sure to get your dogs' tail wagging. Ridiculously tasty chicken is wrapped around my calcium flavoured, bone shaped body - creating the perfect treat for your dogs' gnashers.
I'm the perfect complementary snack to add to your dogs well-balanced diet. My shape means that I'm the perfect treat for small dogs, but I also make a fantastic reward whilst training larger dogs. Not only that, I'm super low in fat making me a fantastic treat for every dog.
 
Not only this, I contain absolutely no artificial colours and flavours, which means I'm fantastic for your doggy's digestion. I'm made with delicious natural chicken breast meat making me a scrumptious treat for dogs with sensitive tummies.