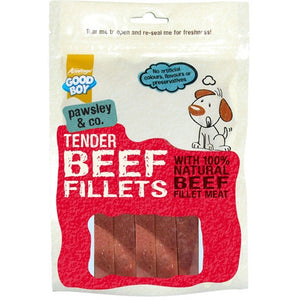 I'm the perfect complementary snack to add to your dogs' well-balanced diet when they've been well behaved. I'm roasted in my own juices, which makes me irresistibly tasty for your four-legged friends.
My favourite trick is making dogs' tails waggle; I'm just that succulent and tasty. Not only am I scrummy, I'm super healthy too, really low in fat and made with 100% natural beef fillet meat. Your dog is sure to love me! Not only this, I contain absolutely no artificial colours and flavours, which is fantastic for your doggy's digestion.

I might not be suitable for puppies under the age of 4 months, but you can easily break me up into small pieces for treating your four-legged friends whilst out on a walk, or just feed me whole as a super duper tasty reward.