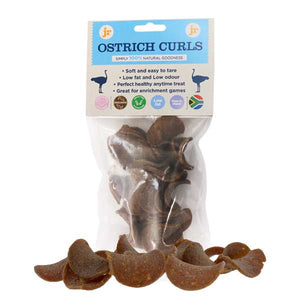 Pals! As you know we take quality very seriously and so we are thrilled to stock JR Products.  The packaging is all recyclable AND JR are a brilliant British company.  Win win win win for everyone!
Here is what JR say about these chews:
Our New Ostrich Curls are here! Full of natural vitamins and minerals, they are the perfect anytime snack!
Our Signature Ostrich Curls are easy to digest & naturally healthy:-
Super low fat and low odour
Perfect healthy anytime treat
Naturally rich in vitamins & minerals

Suitable for puppies over 12 weeks
Key advantages of these great honest and guilt-free treats include:-
100% natural
Easy to digest
Naturally low in fat
High in protein
Healthy and nutritious