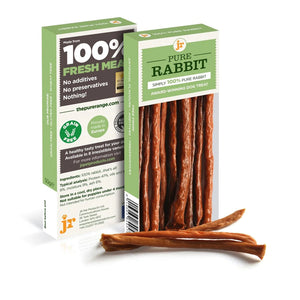 Our delicious Pure Rabbit Sticks are made from 100% Prime cuts of Rabbit, No Additives, No Preservatives, Nothing! They're Grain and Gluten Free and suitable for all dogs, no matter their breed or size. These treats are Hypoallergenic too, 
so great for those with allergies or sensitivities. Highly palatable and easily digestible these Treats can be used for reward, training treats or for use with enrichment toys. Plus, being a part of our Award Winning Pure Range, these Sticks are suitable for puppies from 4 weeks old. 
Check out our other Pure Range Products too!
Key advantages of these Rabbit Sticks include:-
Grain and Gluten free
Hypoallergenic 
High in Protein which aids muscle and tissue repair
Responsibly sourced
Suitable for puppies 4 weeks and over
Great Reward or Enrichment Treat

Easily Digestible 
Healthy and Nutritious
No Additives or Preservatives
Suitable for all breeds, sizes and ages