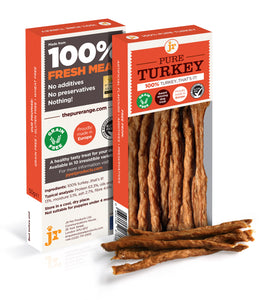 Pals! As you know we take quality very seriously and so we are thrilled to stock JR Products.  100% chicken meat....that's it pals, that's it!! Plus the packaging is all recyclable. AND JR are a brilliant British company.  Win win win win for everyone!
Here's what JR say about these treatos:
JR's 100% natural Pure Range Turkey Sticks for dogs are not only a delicious treat but they're healthy too. Ideal for dogs of all breeds and sizes, they're a great source of protein and are perfect for training.
Our Pure Turkey Sticks are simply irresistible:-
Suitable for all breeds, both raw and kibble-fed dogs
No offal, just premium cuts of human grade meat
Single source protein treats
Responsibly sourced
Great for dogs with allergies

Suitable for puppies 4 weeks and over
Key advantages of these great honest and guilt-free dog treats include:-
100% natural
Easy to digest
Grain and gluten free
Naturally low in fat
High in protein
Hypoallergenic
No additives or preservatives
Healthy and nutritious
The award-winning Pure Range, made from 100% fresh meat…thats it! Simply the best cuts of human grade meat air dried.