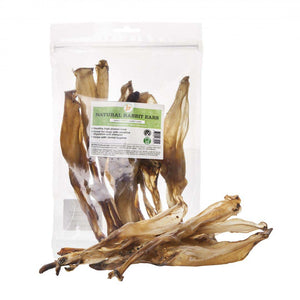 JR's Natural Rabbits Ears are very popular with dogs big and small! Low in odour and high in Protein, rabbits ears help keep teeth clean and healthy. Made from 100% pure rabbits ears with no additives or preservatives, they're also ideal for dogs with allergies or sensitivities

Natural Rabbits Ears, are a completely Natural guilt-free treat to give your dog that's low in odour and high in Protein. These are also a fantastic treat for dogs with sensitive digestion and allergies.
Key advantages of these great honest and guilt-free treats include:-
100% natural
Natural dental chew
Easy to digest
Hypoallergenic
Grain and gluten free
Suitable for puppies over 12 weeks
High in protein
No preservatives
Healthy and nutritious
Pals! As you know we take quality very seriously and so we are thrilled to stock JR Products.  The packaging is all recyclable AND JR are a brilliant British company.  Win win win win for everyone!