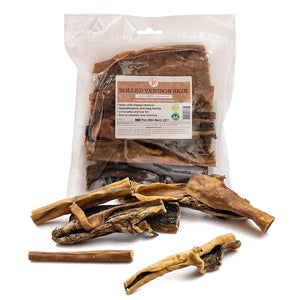 Our Rolled Deer Skin Without Hair is hypoallergenic & simply irresistible. 
Ideal for dogs of all breeds and sizes.
Great for dogs with allergies
Healthy source of protein and iron
Excellent omega 3 qualities
Long lasting chew

Suitable for puppies over 12 weeks
Key advantages of these great honest and guilt-free treats include:-
They're a natural dental chew
Grain & gluten free
Easy to digest
No additives or preservatives
Healthy and nutritious
Naturally low in fat
High protein
Hypoallergenic
Pals! As you know we take quality very seriously and so we are thrilled to stock JR Products.