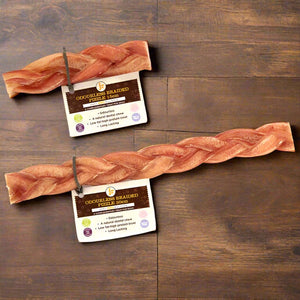 Our New Odourless Pizzle is an improvement on a classic! All the nutritional benefits and qualities of our Traditional Pizzle but without the smell.
Still incredibly irresistible to dogs, our uniquely Air Dried Odourless Pizzle is now irresistible to Pawrents too.
New pizzles have simply been air-dried with no additives, no Preservatives, Nothing!
High in Protein and Low in Fat these pizzles have a firm and fibrous texture for a longer lasting, satisfying chew making these perfect for cleaning your dogs teeth and gums.
Our Pizzle is a complete source of Amino Acids which supports muscle, brain, skin & coat and a natural source of Taurine which benefits cardiovascular health
Key advantages of our Odourless Pizzle (Braided) include:-
Grain and Gluten free
Odourless
High in Protein which aids muscle and tissue repair
Low in Fat

Complete source of Amino Acids which supports muscle, brain, skin & coat

Natural source of Taurine which benefits cardiovascular health

Responsibly sourced
Suitable for puppies 12 weeks and over
Natural Dental chew promotes good dental hygiene for teeth and gums
Longer Lasting chew releases endorphins for good mental health
No Additives or Preservatives
Healthy and Nutritious
** Due to our products being natural, piece sizes may vary **