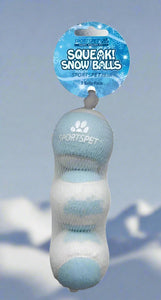 The SPORTSPET snow squeak 3 pack ball has been developed to be one of the 'bounciest' tennis balls on the market.
We have developed a high rubber content ball which increases the bounce. The higher the bounce, the more fun for your dog and with the squeak they're even more fun.

More Bounce, More Durability, More Squeak, More fun!