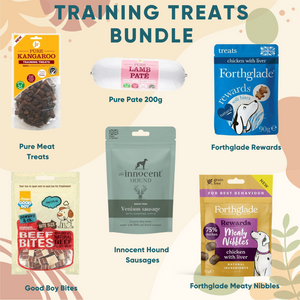 A selection of natural treats, perfect for training.
Choose your flavour of pate.  
All of these treats can be given whole, or are easy to cut up or tear up into smaller pieces.
The pure meat pate can be cut in to cubes (can also be frozen).
A great selection of flavours to keep you interested, and all MEATY, which is the best incentive!
All suitable 2 months+ so great for puppies, but don't forget, training is life-long adventure!
If you have intolerances, let us know and we will make a substitution.
(on occasion we may need to substitute a bag of treats, but we will always choose a same price alternative.)