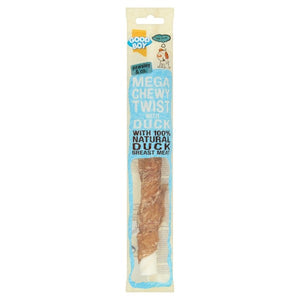 I'm made with 100% natural duck breast and am sure to get your dogs' tail wagging. Super yummy duck is wrapped around my chewy rawhide centre, creating the perfect treat for rewarding your large or giant pooch at home or whilst out and about.
Low in fat
Grain Free
Promotes dental hygiene
I'm the perfect complementary snack to add to your dogs well-balanced diet. I'm roasted in my own juices which makes me irresistibly tasty for your four-legged friends. Not only this, I'm super-duper high in protein making me a fantastic treat for bigger dogs.
What's more, the chewy texture of my rawhide also makes these tasty treats great for your dogs' dental hygiene. It's simple really, all dogs like to chew, which can not only provide your dog with stimulation but more importantly it may help reduce the risk of gum disease and tooth loss by helping to keep your dogs' jaws strong and teeth clean.