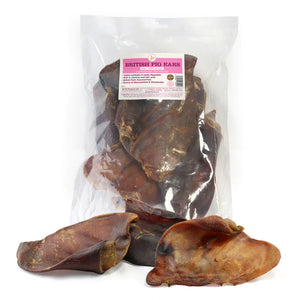 Pals! As you know we take quality very seriously and so we are thrilled to stock JR Products.  The packaging is all recyclable AND JR are a brilliant British company.  Win win win win for everyone!
Pack of 5 British pig ears.
What JR says about their popular treat:
Our Premium, British Pig Ears are sourced from 100% Farm Assured British Pigs. Simply Air-dried with No additives, No Preservatives, Nothing! These classic chews are High in Protein and containing Cartilage, these Ears are a Longer Lasting chew making these perfect for supporting healthy teeth and gums. They also contain 
Glucosamine and Chondroitin promote good Joint Health
Key advantages of our British Pig Ears include:-

Farm Assured Pork
Grain and Gluten free
High in Protein which aids muscle and tissue repair
Contains Collagen for healthy coats and skin

Glucosamine and Chondroitin promote good Joint Health

Responsibly sourced
Suitable for puppies 12 weeks and over
Natural Dental chew promotes good dental hygiene for teeth and gums
Longer Lasting chew releases endorphins for good mental health
No Additives or Preservatives
Healthy and Nutritious
JR believes that keeping it simple is the best thing for your dog. That's why our Pork Spaghetti contains only one ingredient…100% Pig ears!