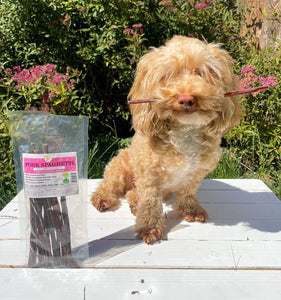 Our delicious Pork Spaghetti is made from 100% Air dried Pig Intestine. High in Protein and totally irresistible to even the fussiest of dogs, this spaghetti makes an ideal snack or can be cut into pieces to make the perfect training treat.

Highly palatable and easily digestible, these make a great treat for all ages, particularly puppies and senior dogs. 


Key advantages of our Pork Spaghetti include:-
Grain and Gluten free
High in Protein which aids muscle and tissue repair
Rich in Natural Vitamins and Minerals 
Responsibly sourced
Suitable for puppies 12 weeks and over
Great Training Treat

Easily Digestible 
Healthy and Nutritious
No Additives or Preservatives
Suitable for all ages and great for Senior Dogs
JR believes that keeping it simple is the best thing for your dog. That's why our Pork Spaghetti contains only one ingredient…100% Pig Intestine!
Pals! As you know we take quality very seriously and so we are thrilled to stock JR Products.  The packaging is all recyclable AND JR are a brilliant British company.  Win win win win for everyone!