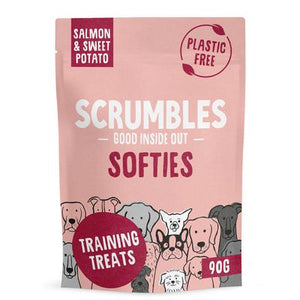 Scrumbles yummy Salmon Softies are the ultimutt natural dog training treats for fish-lovers. Gently baked to a soft bite, with extra goodies like linseeds and yucca to support healthy muscles, skin and coat. We use natural, human grade ingredients, avoid nasties, and add the gut-friendly prebiotic Slippery Elm.
Gluten free 
For dogs 8 weeks+
Lovingly handmade in the UK!

Our fish dog treats are the perfect reward for both your dog and puppy, packed with irresistible salmon! We gently bake them to a soft bite, making them easy to eat mid-training. Along with salmon, we use natural and human-grade ingredients chosen for their benefits and texture.
Dried Salmon 26%, Oats 20%, Glycerine 15%, Chickpea 15%, Peas 8%, Sweet Potato 8%, Rapeseed Oil 5%, Linseed 1%, Slippery Elm Bark 0.1 %